Q:        I was wondering if you could tell me about allergic reactions to condoms.  I used a condom with my partner and I was somewhat itchy internally for a little while.  That went away, but now I have a rash on the upper part of my vagina.  It isn't even on the labia at all, just above there.  I'm really scared and don't know what to do.  I've been putting cortaid on it for the past few days.  I thought it could be the condom because that was the only thing that was different in our relationship.  We had never used that kind of condom before.
Could you please give me some information on allergic reactions or just tell me what you think?
A:       
Allergic reactions to the latex in condoms do occur.  They may range from mild to severe.  Anaphylaxis has occurred but is rare.  A person who thinks she or he is having an allergic reaction to condoms should try one of the options below if a barrier contraceptive remains a priority.  Each of these condoms is not made of latex and may be used by women or men with latex allergy.
The Female condom – (FC2 -it has a new name)
Avanti condoms for men
Trojan Supra condoms for men
A fourth condom you could try is a "skin" condom or natural membrane condom.  The problem is that these condoms are more expensive, have an unpleasant odor, and provide inadequate protection against HIV and hepatitis B viruses.
Also there are two cervical cups. 
Latex allergies are becoming much more common in health care workers because of the increased use of gloves.  Many programs use only Nitrile gloves now.  There are not latex.  Efforts are gradually increasing to make hospitals latex free environments.  There are physicians and nurses who have had to leave clinical practice because of the severity of their latex allergy.  So latex allergy is a real problem for some individuals.  Keep us posted as to what you do and whether your symptoms were caused by latex.  Since other problems could be causing your symptoms, check them out with your doctor or nurse practitioner.  
A note to others viewing this site: Have you ever experienced allergy symptoms to condoms?  What were they and what did you do?
Robert A. Hatcher MD, MPH
Emeritus Professor of Gynecology and Obstetrics
Emory University School of Medicine
Atlanta, GA
June 27, 2015
Key Words:  condoms, allergic reactions, itchy, vagina, labia, Cortaid, mild, severe, Anaphylaxis, barrier contraceptive, female condom, Avanti condom, Trojan Supra condom, men, skin condom, natural membrane, expensive, odor, inadequate protection, HIV, hepatitis B viruses, cervical cups, heath care workers, Nitrile gloves
To learn more about the advantages and disadvantages of the Depo-Provera injections, go to: www.managingcontraception.com.   You can order all of these books listed below from our website or by calling 404-875-5001. 
Current Books:
Contraceptive Technology 20th edition
Managing Contraception 2015-2016 edition
Choices 2014 edition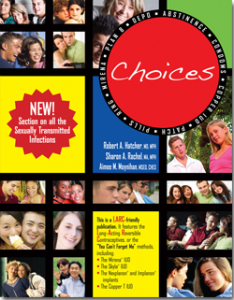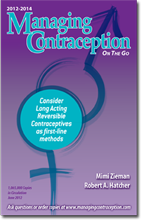 The authors advise consultation of a primary-care provider or a specialist before making decisions about, managing, or treating any problem discussed in these questions and answers.  Under no circumstances should the information provided on this website be used instead of, or to override the judgment of the treating provider.