Updated December 30, 2014 
Fibroids (myomata) of the uterine wall can cause pain, heavy bleeding, anemia, and lead to failure of implantation of a fertilized egg or to repeated early miscarriages. 99.5% of fibroids are benign. 20% of women over 30 have some evidence of fibroids. Most women have no symptoms at all.
CONTRACEPTION: The LNG IUD has been used to control heavy bleeding from fibroids and may de­crease fibroid size. Some combined pills are associated with reduced risk of hospital referral for fibroids [Guillebaud p.173 Contraception Your Questions Answered 2009]. Low dose COCs do not stimulate fibroid growth but do decrease menstrual bleeding. [Friedman, A J Obstet Gynecol 1995]. DMPA effectively decreases blood loss from myomas and may shrink myomas [Venkatachalam J. Obstet Gynecol 2004].
Robert A. Hatcher MD, MPH
Emeritus Professor of Gynecology and Obstetrics
Emory University School of Medicine
Atlanta, GA
To learn more about the advantages and disadvantages of the Mirena IUD; go to: www.managingcontraception.com and click on Choices 2013 edition.  You can also order this wonderful new educational book from our website or by calling 404-875-5001.  Do you have your copy yet?  It is now available in English and Spanish.
Key Words:  fibroids (myomata), uterine wall, pain, heavy bleeding, anemia, implantation, early miscarriage, benign, evidence, symptoms, contraception, LNG IUD, control decrease size, Guillebaud, Contraception, Your Questions Answered, Friedman, Obstet Gynecol, DMPA, blood loss, shrink, Venkatachalam
Contraceptive Technology 20th Edition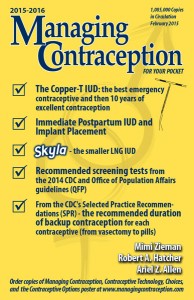 Managing Contraception 2014-2015-Skyla Edition
Choices 2013