Hi Dr. Hatcher! I hope you're doing well! This is McLain (my husband and I worked on the Spanish Choices translation last year). I graduated from Emory, and I've been working as a CNM in Texas.
I'm happy to report that we are using a lot of LARC methods, and I've been able to place IUDs and recently started doing Nexplanons.
A question came up with a patient recently, and I was hoping that you would have some insight. A 33 year-old G3P2 was seen for vaginal discharge and treated for trich at the visit. GC/CT cultures were collected with a + chlamydia result. I just treated her and her partner yesterday. She is inconsistently using condoms, and she wants an IUD. I wasn't sure if there is a protocol for the timing of insertion after sexually transmitted infection (STI) treatment. Do you have any advice? There was no consensus amongst my co-workers. She is open to Depo or oral contraceptive pills (OCPs) if needed.
Thank you so much and I hope you're well!
McLain
Good morning, thanks for your note.  I am glad things are going well for you.
AS UNSATISFACTORY AS THE NEXT SENTENCE IS, HERE IT IS:
If treated for active PID, it is seriously recommended that IUD insertion be delayed until 3 weeks after treatment.
There is no consensus as to when to insert an IUD for a woman with a vaginal discharge that isn't a florid discharge AND WHO DOES NOT HAVE PID.
So what is a florid discharge? It is a foul discharge, a profuse discharge, a nasty discharge or a "bad discharge.  Still not well defined is it?
But, Mallory, we do have a study of close to 57, 728 IUD insertions at Kaiser Permanente clinics in Northern California suggesting that what the clinician does for a woman (who does not have active pelvic inflammatory disease and does not have a florrd discharge) in terms of screening, timing of IUD insertion and  treatment makes no difference and is associated in all scenarios with a very low incidence of subsequent PID [Suffrin et al Obstet Gyneco l212]
If treated for active PID, it is generally recommended that IUD insertion be delayed until 3 weeks after treatment.
Below is a copy of an earlier question already posted on our website:
Question #701/14                          
Category:     Two questions about IUD insertions & screening for sexually transmitted infections
Trigger Question:     How many days after treating Chlamydia could I insert an IUD if she has no florid cervicitis or an active pelvic infection?
Q:        I have a patient who was just recently diagnosed with Chlamydia (CT) at her annual checkup and now wants a Mirena IUD.  How many days after treating Chlamydia would you safely insert an IUD?  I can't find any literature on how long or if you should wait. Or if I could treat her and insert the IUD on the same day.
Jenny Stringer
A:       
She may receive an IUD immediately after treatment (i.e. the same day as she receives treatment. 
Below is a question which was posted on our website with much more information:
Does screening for STIs need to be done prior to IUD insertion if a woman has no symptoms of a florid vaginal discharge? #501-14
Q:        If I have a documented negative GC/CT (gonorrhea/Chlamydia test) from the initial prenatal visit, should I be repeating screening at the time of a postpartum IUD insertion?
A:        Short answer:
An IUD may be inserted at the time of the postpartum visit if the woman does not have a clinically diagnosed pelvic infection or a florid vaginal discharge.
Long answer:
A Kaiser Permanente study in Northern California of 57,728 IUD insertions found a 0.54% (1 in 2,000) rate of infection in the 90 days post IUD insertion.  There was not a difference in the risk of infection:
If there was no screening for Chlamydia and gonorrhea on the day of insertion or in the year before insertion (47.1% of insertions).
Women were screened on the day of insertion (9.8% of insertion).

Screening was done 1-8 weeks before insertion (19.1% of insertions).

Screening was done 8 weeks to 1 year before insertion (23.7% of insertions).
The risk of pelvic infection is low whether or not a woman is screened for Chlamydia and gonorrhea before, on the day of IUD insertion, or is not screened at all. [CB Suffrin et al Obstet Gynec 2012]
To learn more about the advantages and disadvantages of IUDs, Depo-Provera and birth control pills; go to: www.managingcontraception.com  You can order these educational book from our website or by calling 404-875-5001.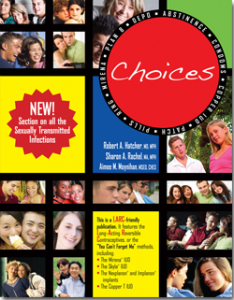 Key Words:  LARC methods, IUD, placement, Nexplanon implants, vaginal discharge, trich, cultures, Chlamydia, condoms, IUD, protocol, insertion, Depo-Provera, birth control pills, florid discharge, profuse, Kaiser Permanente clinics, study, PID
Contraceptive Technology 20th Edition
Managing Contraception 2014-2015 Edition
Choices 2014 Edition