Q:
10 Bonus Health Benefits of Birth Control (from the Huffington Post – December, 2014)
Valerie Tarico, PhD
Robert Hatcher MD, MPH
A:
Valerie Tarico is a psychologist and writer in Seattle, Washington. She is the author of Trusting Doubt: A Former Evangelical Looks at Old Beliefs in a New Light and Ideas and Other Imaginings, and the founder of www.WisdomCommons.org.  Her articles about religion, reproductive health, and the role of women in society have been featured at sites including AlterNet, Salon, the Huffington Post, Grist, and Jezebel.  Subscribe at ValerieTarico.com.
Robert Hatcher, M.D., M.P.H. is Professor Emeritus of obstetrics and gynecology at the Emory University School of Medicine and lead author for Contraceptive Technology, now in its 20th Edition. He answers questions about birth control methods at http://www.managingcontraception.com/qa.
"What do you mean, how often do I want to have my period? Are you saying I have a choice?!"
We women hear a lot about side effects of birth control, but we don't hear as much about the side benefits. If you haven't had a conversation with your doctor lately about family planning, you may be in for some surprises, like the fact that lighter, less frequent periods may be healthier for you.
Modern birth control methods are not only safer and more effective than ever before, they offer an array of bonus health benefits. Of course the biggest health gains of contraception come from being able to avoid ill-timed or unwanted pregnancies along with related wear and tear. But depending on which method you choose, your birth control can help you to avoid a number of other problems as well, from pimples and miserable monthlies to cancer.
5.Endometriosis–Normal endometrial cells line the uterus, where they grow and then slough off each month if no pregnancy starts. But in 4-10 percent of women these cells grow in other parts of the abdomen as well, where they also bleed monthly, sometimes causing intense pressure and pain. Endometriosis is associated with infertility, painful sex, and aching of the lower back and legs. It can't be cured, but it can be managed to reduce pain and protect fertility. Birth control that eliminates menstruation can slow the growth of endometrial cells and reduce symptoms, delaying or preventing the need for surgery and possibly preserving a woman's ability to get pregnant. Hormonal  IUDs, the shot and the pill or ring, when used without a break, all are options.
No one birth control method fits for everyone, but with known exceptions the health benefits of modern contraceptives vastly outweigh the risks. Of American women who take birth control pills, almost three quarters use them, at least in part, for reasons other than family planning. Hormonal IUDs get rave reviews from some young women not just because they are highly reliable "set and forget" contraceptives, but because lighter, less frequent periods make it easier to exercise consistently or to excel in other parts of life, like parenting, military duty, work, and sports.
Gone are the days when family planning meant crossed-fingers and carefully washed reusable condoms, or metal pessaries or worse. Even today, researchers are busy exploring next generation contraceptives, and better options are in the pipeline. But modern women have choices beyond the wildest dreams of our mothers and grandmothers.
This article is adapted from a presentation by Dr. Robert Hatcher, "So Much More," made available by Contemporary Forums medical continuing education as a part of the Contraceptive Technology conference in Atlanta, November, 2014.
Valerie Tarico, PhD
Seattle, WA
Robert A. Hatcher MD, MPH
Emeritus Professor of Gynecology and Obstetrics
Emory University School of Medicine
Atlanta, GA
To learn more about the advantages and disadvantages of all of the contraceptive methods; go to: www.managingcontraception.com and click on Choices 2014 edition.  Contraceptive Technology which has many pages on the noncontraceptive benefits of our current methods.  Click on www.managingcontraception.com to order any of our books.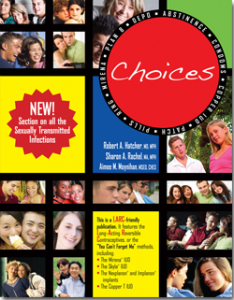 Key Words:  health benefits, birth control, period, side-effects, modern, pregnancies, cancer, estrogen, FDA approved, painful, aches, cramps, teens, early labor, vomiting, bleeding, fatigue, hormonal IUD, pills, rings, pre-menstrual syndrome, headache, fatigue, bloating, cravings, tender breasts, mood swings, endometriosis, uterus, pregnancy, infertility, painful sex, aching, back, legs, pelvic inflammatory disease, Chlamydia, infections, fallopian tubes, Mirena IUD, Skyla IUD, thickening, mucus, cervix, fibroids, ovarian cancer, sterilization procedure, cervical cancer, endometrial cancer, hyperplasia, condoms
Contraceptive Technology 20th Edition
Managing Contraception 2014-2015 Edition
Choices 2014 Edition