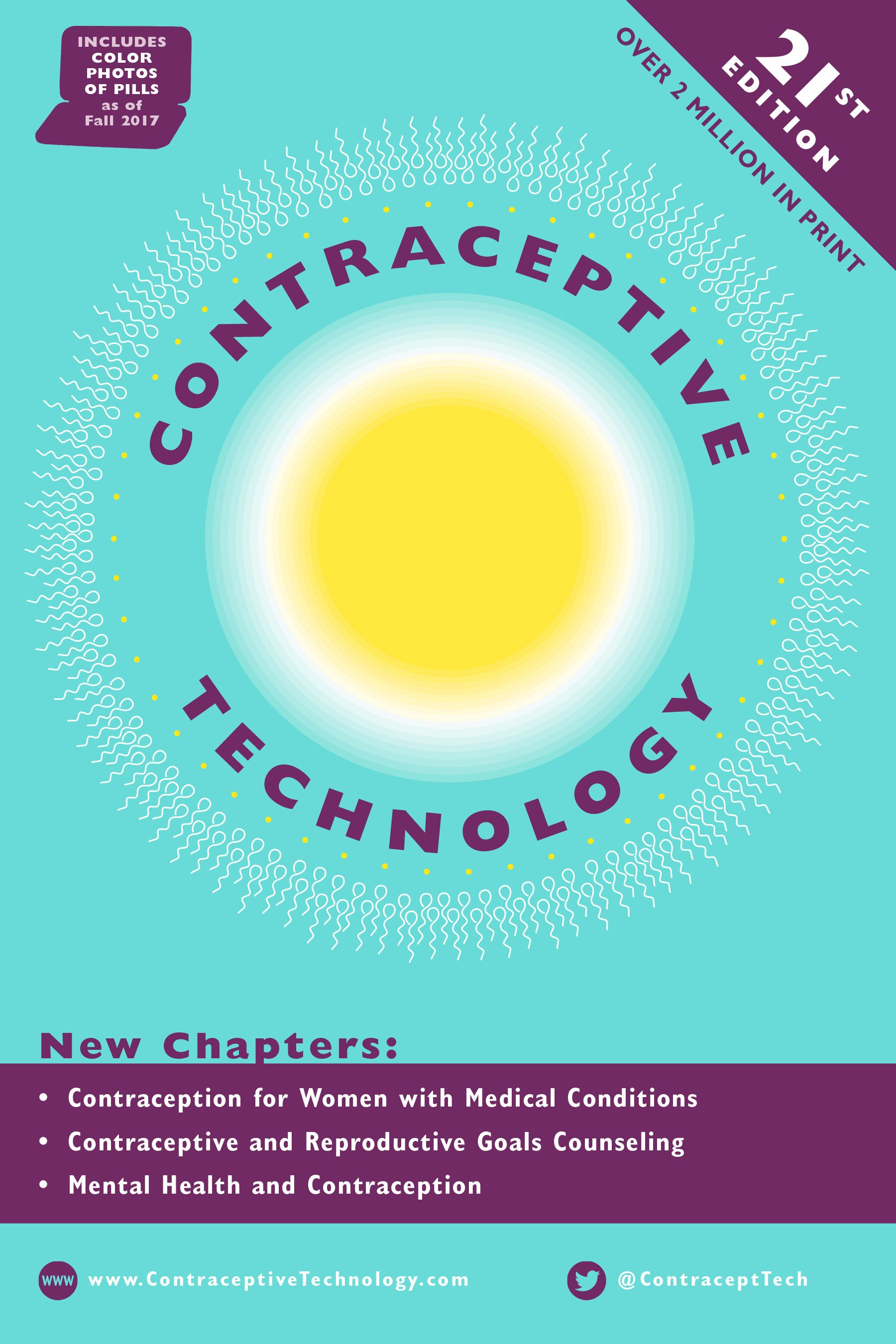 Contraceptive Technology 21st Edition
Pre-Orders May 2018 Available September 2018
The 21st Edition of Contraceptive Technology will be available for pre-order very soon. Join our mailing list below for the latest information on when the book is available in our store!
---
---
Now in its 21st edition, this well-known text with more than 2 million copies in print is the leading family planning reference for over 30 years Completely NEW……the 21 st edition first time updated since 2011 by some of the leading clinicians in their fields in the USA. Over 1000 pages with something new or updated on almost every page. Just to name a few:
Every contraceptive method, including for women with medical conditions
The thorniest of clinical dilemmas in understanding risks and managing side effects
Every STD, including a synopsis of CDC's Sexually Transmitted Diseases Treatment Guidelines
A systematic approach to menstrual disorders and contraception
Insights into assessing abnormal pregnancies and risk of ectopic pregnancies
New digital resources in reproductive health care, for you and your patients
Fertility awareness-based methods, including patient instructions and new technology Approaches to medication abortion
Special considerations for teens, breastfeeding mothers and menopausal women
See new information in the chapters on IUD's, Implant's, Injectable' s and Combined Pills
The latest on the complicated issue of actinomycosis found on the pap smear of an IUD user
AND SO MUCH MORE!!
---
---
BULK PRICING
1 copy $99.95 (until August 31st, then) $110.00ea.
2-24 copies $89.95ea. (until August 31st, then) $99.00ea.
25-99 copies $85.95ea. (until August 31st, then) $95.00ea
100-499 copies $82.95ea. (until August 31st, then) $91.00ea.
500+ $69.95ea. (until August 31st, then) $77.00ea.
ISBN #
978-1- 7320556-0- 5 (soft cover)
978-1- 7320556-1- 2 (case bound)
For case bound pricing email contact: orders@contraceptivetechnology21st.com
---
Sales & Customer Service:
Carol Even Stanley
Phone # : 321-213-4483
Email: carol@contraceptivetechnology21st.com
Ordering Assistance:
Diane Campbell
Phone: 404-875-5001
Fax: 404-875-5030
Email: diane@contraceptivetechnology21st.com